ECDL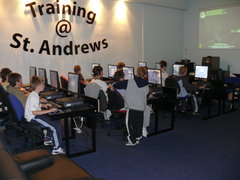 The European Computer Driving Licence (ECDL) is a very successful IT skills certification programme. To date, nine million people have undertaken an ECDL programme in more than 60 countries worldwide. In Ireland, the ECDL is administered by ICS Skills (http://www.ics-skills.ie).
The ECDL course covers seven modules which are, Windows Explorer, Word, Excel, PowerPoint, , Internet, Access, and Theory in that order.
Outside of Europe the programme is known as the International Computer Driving Licence (ICDL), attesting to its phenomenal world-wide recognition and growth.
The ECDL establishes a standard for everyone who uses a computer in either a professional or personal capacity. It is a certificate that verifies competence in computer use, making the holder readily mobile within Ireland and internationally. Employers and job seekers all agree on the importance of this standard definition of practical competence in Information Technology.
St. Andrews are very flexible with the ECDL course. If you wish to do, for example, Word, but not the next module, you could drop out and come back at a different time that suits you. We also accommodate clients that are just interested in one or two of the modules.
ECDL is organised to run four days per week, the course can be completed in just three weeks. This course is ideal if you want to learn new skills for employment The new course incorporates on-line testing and practice and also allows home practice as part of the course.
The entire course is delivered by an experienced and fully qualified trainer with additional support and separate practice locations available should you need it.
For more information contact Shay or Jim on o1 677 1930 or email shay.barry@standrews.ie