Equal Skills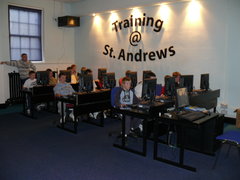 Equalskills is a fun and informal introduction to computers and the Internet. It is designed to increase skills in basic computer literacy. It introduces technology to all people, regardless of status, education, age or ability. Equalskills is a flexible learning programme, with a proven track record in equipping people with the basic computer skills they need to become part of the information society.
The aim of the programme is to make people feel comfortable using a computer, and to teach them the basic skills necessary to communicate using the internet and email. It is well structured with excellent training resources, and it has the added bonus of providing certification to candidates who complete the programme.
The programme was developed by ICS-SKILLS (http://www.ics-skills.ie) , the organisation responsible for ECDL in Ireland. It was piloted in Ireland and the UK during 2002. Following the successful pilot phase, Equalskills has been extended and improved and is now available nationwide. It will soon be available to all ECDL and ICDL countries.
Who is Equalskills for?
Equalskills is for anybody who wants to start from the beginning and learn some practical ways of using a computer. It is particularly aimed at people who might not normally come into contact with computers in their everyday lives. People who are accustomed to living in a non-digital world may feel intimidated by technology. By learning some simple computer skills, they can quickly understand how technology can improve their quality of life.
Equalskills is a very good starting point for inexperienced candidates who aspire to ECDL, and test centres which offer Equalskills will have a cohort of motivated candidates who may wish to advance to the full ECDL programme.
Equalskills is run on Tuesdays and Thursdays from 10am to 1pm.
Equal Skills Time-Table 
Tuesday and Thursday Mornings 10:00am-1.00pm
Cost €150
Past events for this activity