Cyber Links Internet Café
During the COVID Pandemic this service is suspended please find more infomation here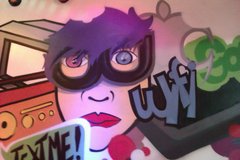 St Andrew's also operates a state of the art internet cafe. Our ten seater Cyber Links Internet Café is equipped with ten new computers, all with extra large monitors, and a superfast T1 internet connection, which makes Cyber Links the perfect place for online gaming, word processing and emailing. Serving the entire local area Cyber Links was co-funded by Dublin Docklands back in 2002 and was the first internet café to be launched under the community development project.
The Cyber Links Internet Café will be celebrating its 8th birthday in June this year and continues to successfully serve all age groups in the local community, from our youngest members who are aged 5, to our oldest who is currently 95! The Cyber Links Internet Café is open from 9am to 5pm, Monday to Friday, and invites everyone to simply drop in and use the fantastic facilities. Group bookings are also available and at present facilitates such groups as the 'My Babies, aged 3-4' and 'After-School Kids, aged 5-9'. A Women's group has also met in the Cyber Café for the past three years.
St Andrew's Resource Centre invites you to drop in and use our internet café, be it to book concert tickets, write your C.V, research holiday options or simply to brush up on your PC and internet skills.