Training@StAndrews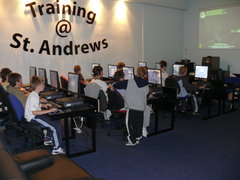 St. Andrew's computer training room has been actively running for the past ten years. Our computer room was refurbished in 2008 and has twelve state of the art computers with a trainer's PC and overhead projector. Our spacious computer room meets all the needs of both students and trainers and facilitates many types of computer training.
We provide computer training for people of all ages and abilities, regardless of experience or means. Serving all age groups, from pre-school children to silver surfers, Training@St.Andrews offers a wide range of courses and classes to meet every need.
Training@St.Andrews is both an Equal Skills and ECDL (European Computer Driving Licence) centre, facilitating the teaching of numerous courses leading to universally recognised certificates. The courses that we provide range from basic computer training, introduction to computers for the young and elderly, literacy through computers and the ECDL. The ECDL course covers seven modules which are, PowerPoint, Word, Excel, Internet, Access, Windows Explorer and Theory.
ECDL classes
Basic Computers
Sliver Surfers classes
For more information contact Shay Barry at shay.barry@standrews.ie or telephone the centre on 01-6771930.
Our state of the art computer room is also available to book for private tuition and group activities. Our room is perfect for corporate training days and has previously been used for group LAN gaming competitions. For more information on how to book the room please contact the centre or see our Activities page.