The Number 11 Ferry
27 Jun 2019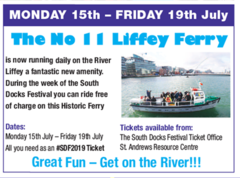 The Number 11 Ferry ploughing the Liffy daily is now avaialble free with a South Docks Festival ticket.
This new festival event is available from week begining 15th July 2019. 
Tickets available from the South Docks Ticket Office St. Andrews Resource Centre. Take the kids, or collegues get on the river for this unique trip.