Services & Sacraments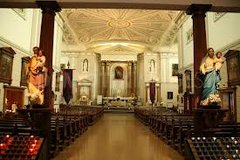 St. Andrew's Parish church offers a wide range of services and sacraments, for every time of life.
On these pages you will be able to find information on a number of sacraments, including baptisms, communions, confirmations and marriages.
For further information, simply call in to the parish office at any time Monday to Friday 7.30 - 12.00.
The opening hours of the Parish Office are:
Monday-Friday
7.30am-12 pm
Phone: (01) 676 1270
Fax: (01) 676 3544
Further particulars and contact information can be found here.