Free Business Workshop with QED Training
4 Dec 2012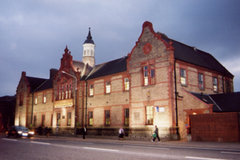 In anticipation of the opening of St Andrew's Resource Centre's new Enterprise Centre, we are delighted to promote a course of relevance to anyone who is starting up, or already running, their own small business.
Held on December 11th, both training sessions will be held in our brand new Enterprise Centre on the corner of Macken Street and Pearse Street.
The seminars will focus on the use of Social Media, Online Research tools and will provide expert start-up advice.
QED Training is offering this FREE two hour workshop to people who are currently on the live register, for 12 months and over, and who are looking for the opportunity to set up their own business.
In support of a 12 month support programme for budding entrepreneurs, due to be held in 2013, QED are giving this free seminar to individuals who are currently unemployed and thinking about setting their own business.
The two hour workshop includes the following:
How to test your business idea
Key skills in becoming an entrepreneur
Latest trends and ideas from around the world
Using Social Media to start and build your business
Case studies of Irish business making a success of their business
Q&A with experts in Starting Your Own Business
If you are interested in setting up your own business, want to continue with your social welfare support while setting up and want to get information to help you start
To register please contact QED Training at (01) 4197000 or Muireann Fitzmaurice @ 0868932768 or register directly by clicking here.
Date and Location of Free Workshop in your area:
St. Andrews Enterprise Centre, 114-116 Pearse Street
http://www.standrews.ie/contact/directions.html
Tuesday 11th December: 10am - 12pm (Specifically for Women),
2pm - 4pm (Open to Everyone)