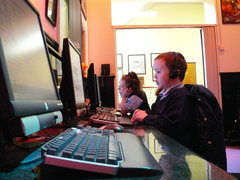 St. Andrew's Resource Centre Pearse Street has continued over the past nine years to develop its Digital Community Project. All residents in the area are eligible for membership to any number of clubs, groups and activities organised across the two IT Centres in the building.
The St. Andrews Cyber Café provides a gateway to IT for young and old alike and the IT training room provides high end skills including Equal Skills (Basic Computers) ECDL. The youngest clients are just 2½ years old and the eldest in her 80's. All are welcome and all receive free access and training across a whole range of Digital Issues.
Popular with the "Silver Surfers" is digital photography and using the Computer to get the best from a camera. Last summer this group were given a camera in a box and they worked out step by step how to use it with the PC's in the IT Training room under the watchful eye of our Computer Trainer Shay Barry.
Our younger clients were given the opportunity to beat Trinity College Students in an online game and battling for Pearse Street the kids aged from 8 to 16 were victorious against the Computer Wizz students from the College. We look forward to the return match.
St. Andrews also provides higher end training in its IT Training Room that we call Training @ St. Andrews. ECDL and EQUAL Skills are the most popular courses along with the Introduction to Computers Course which is tailored to the individual needs of the students taking part on the course.