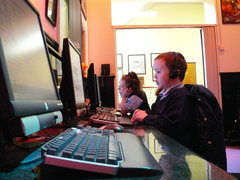 St. Andrew's Resource Centre Pearse Street has continued over the past number of years to develop its Digital Community Project.
In the past year we have been working hard to make the project relevant to our current situaiton. It is with that in mind that we are delighted to announce a significant partnership between St. Andrews Adult Education, St. Andrews IT Training, St. Andrews Local Employment Service the CDETB and Google.
Our new program offers access to online training and support for those wishing to become more computer litterate. A series of Google Courses has been agreed and are freely available to local people. Contact Lisa in our Adult Education for more information.
Our thanks to the CDETB, Google and St. Andrews for this significant project. Members of the Digital Community can access resources though the links below:
Courses with Coursera Click here
Google Digital Garage Click here
Contact St. Andrews by email here
Delivered in partnership with: