SDF 2013- Thursday
22 Jul 2013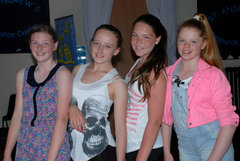 Thursday saw a mixture of new events and old favourties, as another day of good weather shone down on the festival.
A very popular new event was the Seniors' Barge Trip. The trip saw the barge travel all the way along the Grand Canal into Kildare. All reports back have shown how enjoyable the afternoon was.
Thursday also saw the Children's Talent Show. This annual event, as always, saw the hall packed to the rafters as two different age groups competed for trophies.
The youngest of children were, of course, not left out, with the Teddy Bears' Picnic taking place in Pearse Square. Many Teddy Bears, and their owners, took part in the festivities, with balloon animals for all and a fantastic magician to provide entertainment for everyone. 
Check back soon, as pictures are up-loaded.