Congratulations to the Junk Kouture Finalists
27 Feb 2017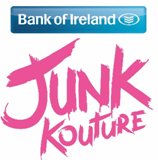 Well done to the Young People from CBS school on 5 remarkable entries to Junk kouture. St Andrew's Talk About Youth Project were delighted to have had the opportunity be a part of this great school initiative. Huge congratulating to two groups that got chosen to go through to the next round.
 Talk about youth Project looks forward to continuing working with CSB secondary School.
 The competition sees students from all over the county compete for this prestigious award, which requires the recycling of materials to create wonderful, creative, clothing designs. Below you will see two of the wonderful outfits created as part of the project. 
The final will be held soon, and voting is due to open. For more information on the competition see the Bank of Ireland Junk Kouture website, and to vote, simply go to their facebook page.