Photographic Competition for South Docks Festival 2017, sponsored by Waterways Ireland
18 Apr 2017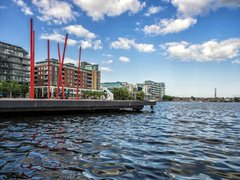 South Docks Festival, in conjunction with Waterways Ireland would like to invite local photographers to submit photos of the Grand Canal Basin/Canal for an exhibition to take place as part of the 30th South Docks Festival 2017.
The exhibition will be opened in the Waterways Ireland Centre on Grand Canal Basin on the 15th of July, and will run to the 24th July 2017. Those photographers who have been selected to have a photograph exhibited will be invited to the gala exhibition opening on Saturday the 15th of July. 
Brief
• The area of interest, along the Grand Canal from Huband Bridge (Percy Place) to the Grand Canal Basin.
• Images must be recently taken (within about a year).
• 3 images per person
• No images that have been published elsewhere.
• Photos should have a minimum quality of 2048 X 1536 pixels for printing.
• Images will be displayed both digitally and in print
• Closing date 16th June
Submit images by email to Noel Watson in St Andrew's Resource Centre:
noel.watson@standrews.ie or phone 01-6771930.