Youth Work Changes Lives Initiative
9 May 2017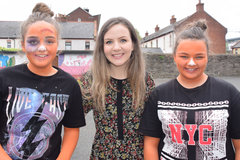 The National Youth Council of Ireland, of which the Talk About Youth Project is a member, in partnership  with other members and the wider youth work sector, is running a campaign called "Youth Work Changes Lives", to highlight the positive contribution of youth work to young people, local communities and Irish society as a whole.
The youth work sector makes a significant and positive contribution to the lives of young people throughout the country and the campaign is been aimed primarily at funders, elected representatives, policy makers and the public in general. The youth work sector are collectively spreading the message about the value of youth work and the need for more investment in youth work services.
With this in mind, the Talk About Youth project was the first youth project in Ireland to be actively involved in the campaign and organised a showcase of the work of our project to an audience of over 200 people in St. Andrew's Resource Centre on the 20th April. Guests included local elected representatives from all the political parties, funders, partners, specialist organisations, as well as the local community.
Our special guest for the evening Martha Fitzpatrick ( who plays Charlotte Bishop in Fair City)  who kicked off proceedings with her own story of following her dream of acting from a  young age. Her involvement in youth theatre has a very clear message to all the young people, "Follow Your  Own Dreams". It was very inspirational and not just for the younger audience but for everyone present 
The showcase highlighted all of the work carried out by the youth work sector, through the use of video, film, song, drama, dance, poetry, comedy plus there was also a video including  testimonials of volunteers, partner organisations, families of our participants. 
The event surpassed all expectations with the contribution of young people outstanding on the night. There was a palpable sense of pride among all the audience and it filtered into the entire community long after the event finished.
We would like to take the opportunity to thank everyone who took part, both organisers and guests.