Pearse Street's Got Talent Returns!
7 Jul 2018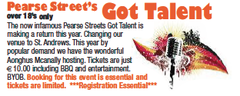 We heard that people were begging....we were told there was a petition...we listened to the people...and we made the decision. 
PEARSE STREET'S GOT TALENT IS BACK!!!!
That's right. It's back and it's better than ever. This year the epic event will be held in the main hall of St. Andrew's Resource Centre on Monday 16th July! We've got everything we need for Pearse Street's favourite event, including the host with the most Aonghus McAnally, beceause it wouldn't be Pearse Street's Got Talent without Aonghas!
The event is now a ticketed event, with tickets costing just €10 each. For this small price you get entry, entertainment, and a meal, what else could you want? Oh yes, the event is BYOB!
Ticket numbers to this wonderful event are limited and strictly over 18s. Tickets go on sale on Monday 9th July at 9am.