Sdf 2013-Tuesday
18 Jul 2013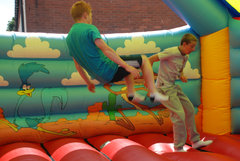 Tuesday again saw a lively day of festival events. 
The day kicked off with Bouncy Castles for the under tens, with blow up assault courses, two storey slides and enough castles to keep even the most energetic festival goers happy. The event continued in the playground and the hall into the afternoon, when the older kids threw all they had at the castles.
The afternoon also saw a new event, supported by the Pearse Hotel. The Mega Bingo saw a good crowd compete for top prizes.
The open top bus tour was also hugely popular, and the fine weather helped to make this a very popular event.
The evening saw the ever popular Pearse Street's Got Talent Competition. Indeed, competition was very high, with twelve acts competing for top place. The event was won by MIchelle and Dylan who wowed the crowd with their energetic and awe-inspiring dance routine. Second went to Tommo Nolan who's singing voice won the crowd over, and third place went to Katrina Boland who's 80's inspired song brought great neon colour to the stage. 
Below are some images from Tuesday's events, with more to be added soon. Don't forget to check out the South Docks Festival Gallery, for more pictures, and check back soon for further up-dates.