SDF 2013-Wednesday
18 Jul 2013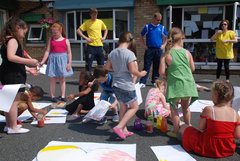 Wednesday of the South Docks festival saw beautiful weather for all events. The day kicked off with Family Flix in the hall, where children and parents alike took advantage of the shade to watch films together. Another activity for the kids took place in the Waterways Ireland Centre, with the children's art workshops. The weather was also perfect for another session of Zip Wire fun, courtesy of Wake Dock in Grand Canal Dock. 
Entertainment was not provided for the children alone, as a new event for this year's festival started at 3pm. The Seniors' Day in was hugely popular, and a meal and entertainment was provided for all right the way through til 10pm. The day saw participants enjoy music and dancing with a live band, as well as bingo, games and refreshments. In the evening there was a variety show with many of the day's attendees taking to the stage to sing. There were also special perfomances from the Pearse Street's Got Talent runner up, as well as from Bollywood Dance Dublin. 
Below are some pictures taken of the days events, with many more to be added over the coming days. Check back soon for more!