Rock 'n Roll Bingo
12 Jul 2016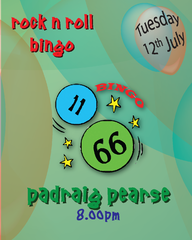 Do you like music? Do you like bingo? Do you like competitions? Do you love the South Docks Festival?
If you've said yes to any of these questions than a fun night awaits you tonight at the Padraig Pearse. Rock 'n Roll Bingo is a brand new event for South Docks 2016. Rather than normal bingo, this event relies on recognising music. Recognise all the tunes, then simply call house! A great way to play a game and hear some great music. 
This event is free, but is for over 18s only. For more information contact the event organiser, Emma, on 01-6771930.