Thank You from the South Docks Festival!
18 Jul 2016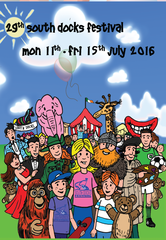 St. Andrew's Resource Centre would like to thank everyone that volunteered at the 2016 South Docks Festival. 
This year's festival was a fantastic success, with well-attended events, brilliant volunteers, and a brilliant programme of events. None of this would have been possible without the huge number of people from the local community and local businesses who came together and gave up their time to support a whole week full of events. South Docks Festival would never be possible if it were not for the generosity, good spirit, and untiring work of the volunteers.
We are already looking forward to next year's Festival which will be the 30th South Docks Festival! Again we will rely on our fantastic supporters and we look forward to working with you all to deliver the 30th South Docks Festival. 
Thank you everyone!
#SDF2016