Calling All Aspiring Artists
16 May 2017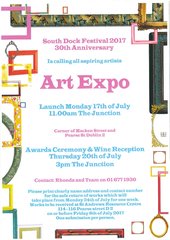 Are you an aspiring artist? Want to display your work to the public? Then the South Docks Festival Art Expo is perfect for you!
As part of the 2017 South Docks Festival, the ever popular Art Expo is back! The event allows artists of all levels to display their creations to the public during the festival. The works will be displayed as part of the launch of the South Docks Festival on Monday the 17th of July in The Junction at 11am. Then, on Thursday 20th of July, there will be an awards ceremony and wine reception where all of the award wining artworks will be announced and participants can celebrate their achievements and meet the other artists. 
If you would like to submit a piece for display then you can bring your artwork to St. Andrew's Resource Centre.
For more information contact the event co-ordinator, Rhonda, on 01-6771930.