Big Bingo for SDF 2017
5 Jul 2017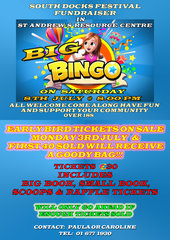 Big Bingo is Back!
St. Andrew's Resource Centre are running a Big Bingo game to raise funds for the South Docks Festival 2017. The event will be held in the centre on Saturday 8th July, from 8pm. Tickets for the event are on sale now and the first 40 lucky ticket-buyers will get a goody bag!. Tickets cost just €30 and include:
-Big Book
-Small Book
-Scoops & Raffle Tickets
All are welcome to what is sure to be a great night for a wonderful cause. The event is strictly over 18s and will only go ahead if enough tickets are sold.