Sewing Classes-Beginners' Level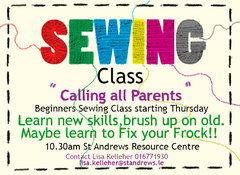 Beginner's sewing classes start Thursday 21st of September in St. Andrew's Resource Centre.
If you've always wanted to learn to sew, or if you want to brush up on some old skills, then this is the course for you.
Classes run every Thursday at 10.30 am and are free of charge.
Places are limited, so to reserve your place contact Lisa Kelleher, lisa.kelleher@standrews.ie, or call 01-6771930