Voluntary Tuition Programme (VTP) Grinds
23 Sep 2015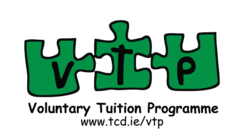 The Voluntary Tuition Programme and St. Andrew's Resource Centre is deligted to announce that the grinds programme for the academic year 2015-16 will commence in the 2nd week of October (12th of October). 
The VTP is a partnership between St. Andrew's Resource Centre, Trinity students, parents and volunteers from the local communities of Pearse Street and Ringsend and Irishtown. Every year over 300 Trinity students, graduates and staff members are matched as tutors with children and teenagers studying in local schools. The programme fosters a close bond between the local community and Trinity College Dublin. The programme is currently funded by the Trinity Access Programmes (TAP), fundraising events and a number of targeted and private donations in cash and in kind.
Primary school grinds are held in St. Andrew's Resource Centre every Monday from 5:30-6:30, Tuesday and Wednesday 5:30-6:30 and 6:30-7:30
Additional classes are held in Ringsend College every Tuesday from 6:00-7:00.
Secondary school tuition is held in Goldsmith Hall Monday-Thursday 6:00-7:00 and 7:00-8:00, while special needs tuition is held in Goldsmith Hall every Tuesday 6-7.
Extra-Curricular Activities
As well as tuition, VTP also run a number of clubs and activities, open to all children who are registered in the programme.
For Primary School children we have:
-Art Club: a wide range of activities are covered from painting and drawing to craft activities such as clay modelling to textiles and 3D projects. The programme is devised to encourage the kids to think in a creative way.
-Drama Club: Plenty of singing, dancing and poetry to create a caring learning environment for children. Drama builds confidence in children and develops interaction by role-playing.
-Sports Club: Ball games and general sporting activities encourage a healthy lifestyle and promote team work.
-Irish club: fluent Irish speakers volunteer to help improves the kids oral Irish through both informal written exercises and fun games.
For Secondary School children, we offer:
- Debate Workshops: offered before Christmas, experienced debaters help improve public speaking skills through a serious of interesting games and tasks.
- Language Oral workshops: offered after christmas to Junior and Leaving Certs in preparation for their Irish, French, Spanish and German oral exams.
In order to avail of the grinds and to partake in the extra-curricular activities children must be registered and submit their registration form to Lisa Kelleher. All registration forms must be returned by the 25h of September. For further information about the grinds, or to receive a registration form, simply contact the Education Department manager, Lisa Kelleher on 01-6771930, or email Lisa.Kelleher@standrews.ie