The Dublin Docklands Community Art and Crafts Showcase
15 Feb 2016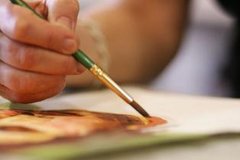 The Dublin Docklands Community Art and Crafts Showcase is almost upon us!
St. Andrews Resource Centre & Lourdes Youth and Community Services are coming together to showcase works of art and display the wonderful crafts created as part of their Adult Education courses. For time and dates see our events page.
This is a great opportunity to see the beautiful works that the participants have created, and to meet with other budding artists. The event is being held as part of the AONTAS Adult Learning Festival. More about this great festival can be found on their website.
The event will be held in St. Andrew's Junction where there will be plenty of light to show of the artworks to their best advantage. This event is open to everyone, no tickets are required, simply come along and see the wonderful creations and support your local artist and celebrate 10 years of AONTAS Adult Learning Festival.