Alan Wilson Art Expo
01 Jan '19 2:26pm - 19 Jul '19 2:26pm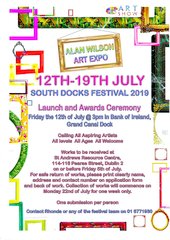 SOUTH DOCKS FESTIVAL 2019 - 12th to 19th July
Launch and Awards Cermony
Friday 12th July @3pm in Bank of Irelad, Grand Canal Dock, Dublin 2
Calling all aspiring artists
All levels, All ages, All welcome
Works received in St Andrews Resource Centre, 114-116 Pearse Street, Dublin 2 on or before Friday 2nd July @ 5pm.
For safe return of works please print clear, name, address, phone number on the application form and back of work.
Collection of works will commence on Monday 22nd July for one week only.
Please contact Rhonda or the Festival Team on 01 6771930 for further information
Venue
Bank of Ireland, Grand Canal Dock, Dublin 2