ICES, and St. Andrew's Resource Employment Service, nominated for National Q Mark Award
11 Jun 2013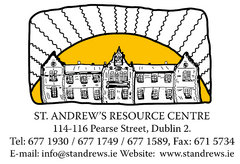 The Inner City Employment Service, of which the St. Andrews Employment Service makes up one quarter, has been shortlisted for this year's National Q Mark Award.  Just three other employment services in Ireland have been nominated. This nomination follows the successful completion of the Q Mark in December 2012.
The National Q Mark Awards recognise Companies and Organisations that have successfully implemented the Q Mark programme of choice.  The superb score attained by the Inner City Employment Service (ICES) has made ICES one of the top scoring audits or assessments completed by Excellence Ireland Quality Association (the proud guardians of the Q Mark) during the period 1st April 2012 – 31st March 2013.
Watch this space for further up-dates, and thanks to all who made the Q Mark Award and subsequent nomination possible.