Job Centre Overview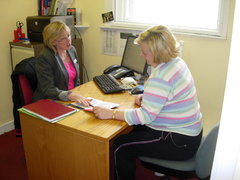 Eastside + Docklands Local Employment Service locally called The Job Centre was awarded the Q Mark Award in 2006 by the Excellence Ireland Quality Association and has successfully achived the QMark every year since.
The mission of the Job Centre, in conjunction with the Inner City Renewal Group is to provide an access point to a full range of options currently available to enable our local clients to return to work. These include career advice/guidance services, access to training programmes, information on further education opportunities and employment supports. The four main components of our service are as follows:
- It is locally operated
- It is professionally delivered
- It is adaptable to the needs of each individual client
- It offers as far as it is now possible a confidential service to protect the clients personal and professional interests
Our work will impact positively on our clients by enabling them ultimately to progress into the world of work.
As a client of St. Andrew's Job Centre you can expect the following:
- To be treated with respect and courtesy at all times.
- To have a job seeker file opened.
- To have a CV constructed.
- To explore options for training, employment and employment schemes.
- To agree a method by which you will gain employment.
The Employment service is a client focused service and as such services are tailored to meet the needs and the demands of the individual job seeker.
To contact a member of the Job Centre staff please email Jim.Hargis@standrews.ie or phone 01 6771930.
And for mor information go to our website Eastside+Docklands LES