Community Employment (CE) Positions Available.
19 Jan 2017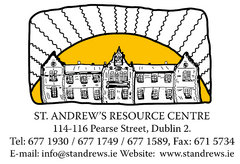 Have you been in receipt of a Department of Social Protection payment for 52 weeks?
Are you seeking training to advance employment prospects?
Then Community Employment may be for you.
Community Employment gives you the opportunity to show prospective employers that you actively engaged with your employment situation and opportunities. Community Employment also allows you gain valuable work experience, participate in training, and attain new skills.
St Andrew's Community Employment project is currently recruiting eligible job seekers. 
To check your eligibility contact St. Andrew's Resource Centre Job Centre on 01-6771930.