"The 21st Century Youth Worker"
1 Apr 2019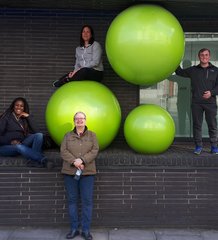 The Talk About Youth Project were invited to the Department of Children and Youth Affairs during the week ending 29th March, to join 70 youth workers from Indiana, USA, who were in Ireland for a week long study visit for a seminar highlighting the similarities and differences between youth work in Ireland and the United States.
We hosted 2 ladies from this group in St Andrews.
Nicole Williams is a music teacher who runs her own company "The One Love Community Circle ". She works with young people in detention centres, homeless facilities, after school projects and youth groups.
Melissa Hunsberger works with an organisation called Centrestone and they provide community based mental health and addiction services, with Melissa working with predominantly young people in their homeless residential facilities.
Time was against us, but we fitted in a session with the youth team, the silver surfers, a youth group and externally CBS and PARC.
Nicole hopes to raise some funding to come back to us next year to do a series of Djembe drumming session and singing workshops, bring it on.