Grand Canal Innovation District
3 Jan 2020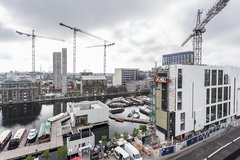 Grand Canal Innovation District 
The Grand Canal Innovation District has been given the green light by the cabinet. In its Ezine issued today available here Trinity College has welcomed the decision stating they...  
"will ensure the innovation district evolves in a way that is respectful of and meets the educational, employment and space needs of the local community and will improve the quality of life and the breadth of opportunity for all who live within it." which is to be welcomed. 
Today in response St. Andrews Resource Centre have made the following points: 
The GCID project has major implications for this area, which has already undergone dramatic changes over recent years.

 International experience shows that innovation districts based on research campuses and high tech investors can crowd out, or drive out, local communities, especially traditional inner city communities.

 For that reason, it was welcome that the Government set the needs of the local community as part of the priority objectives of the Advisory Group, and that this is reflected in the Report published today.

 Education, employment and above all social and affordable housing are crucial if the traditional community is not only to benefit from the planned Innovation District, but even to survive.

 The measures to take forward the vision of an outcome which ensures that the historic local parish communities survive and flourish will need to be robust and reflect a strong community voice. Guaranteeing that there will be no reduction in the stock of social housing in the area is an urgent first step.