Our Community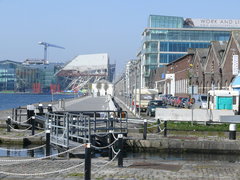 The Centre offers support services and development opportunities to individuals and families at all stages of the life cycle: childcare provision, youth programmes (including grinds facilities/homework and after school clubs) outreach programmes, adult education programmes, employment preparation and placement services, employment and training opportunities for the long-term unemployed, pre C.E. training, home help services to the elderly and families under stress, meals on wheels, welfare rights and advice services and a Day Centre for the Elderly.
The Centre is strongly committed to community development. Therefore, in addition to providing resources and services to individuals and families, the Centre promotes the interests of the community as a whole by providing information on local issues and developments through publication of a community magazine, 'The New Link', which is delivered free to over 3,000 homes in the area. Feedback from the community is very positive and people are encouraged to contribute articles and stories for each issue.
The Centre provides support for the networking of local organisations and facilitates local groups active in the area, providing spaces for meetings, a platform for the dissemination of information in the form of our local magazine, The New Link, and provides the community with a means to liaise closely with local representatives on the Dublin Docklands Development Authority, Dublin Inner City Partnership, RAPID, MABS and other other relevant bodies.