Heritage Project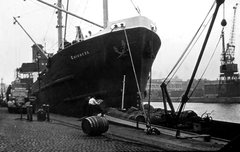 St. Andrew's Heritage Project continues to research and document the history of the area. Many quality exhibitions have been compiled and exhibited over the years and have been the subject of great acclaim.
A considerable amount of photographic memorabilia, text and models relating to these exhibitions remain on permanent display in the Centre. The models by Dick Vekins of the Gasometer, the Diving Bell, Pearse Street circa 1900 and the Centenary celebrations of Daniel O'Connell take pride of place in our reception area. Our resident artist Alan Wilson has also documented in sketch form the rapid changes taking place in our community and his work can be seen in the Centre and in our publications.
The complete set of roll books of St. Andrew's National School, dating from 1895-1976, have been restored. This collection may be viewed on request and relevant information relating to past pupils can be obtained. The Roll Books are in pristine condition and provide an invaluable historical insight into the community during the lifetime of the school. Many callers to the Centre research their family connections and can be provided with copies of relevant materials as requested.
The Heritage Team is currently in the process of compiling an historical portrait of the Westland Row/City Quay/Pearse Street area. This will take the form of a captioned indexed map of our key historical locations.
Other exhibitions on show in St. Andrew's Resource Centre include:

Dublin's Darkest Days
Child's Play
Entertainment Through the Ages
The 1916 Exhibition

The Diving Bell
The Daniel O'Connell Exhibition
The Gasometer Exhibition

The Working Docks Exhibition
Footballing Days.
A number of publications are also available based on the work of the Heritage Project team. These include:

Journey's from the Steyne
Along the Quays and Cobblestones
Dublin's Diving Bell.
Salvaging the Past-Shaping the Future